See How Our Stone Honing and Polishing Service in Briarcliff Manor, NY, Changed the Look of This Marble Vanity Countertop
January 31, 2018
Having natural stone countertops gives a touch of luxury to any room—no matter if it is in a kitchen or bathroom. While it is true that natural stone can transform any room, homeowners need to be careful. If natural stone is not properly maintained, it will lose its shine sooner or later.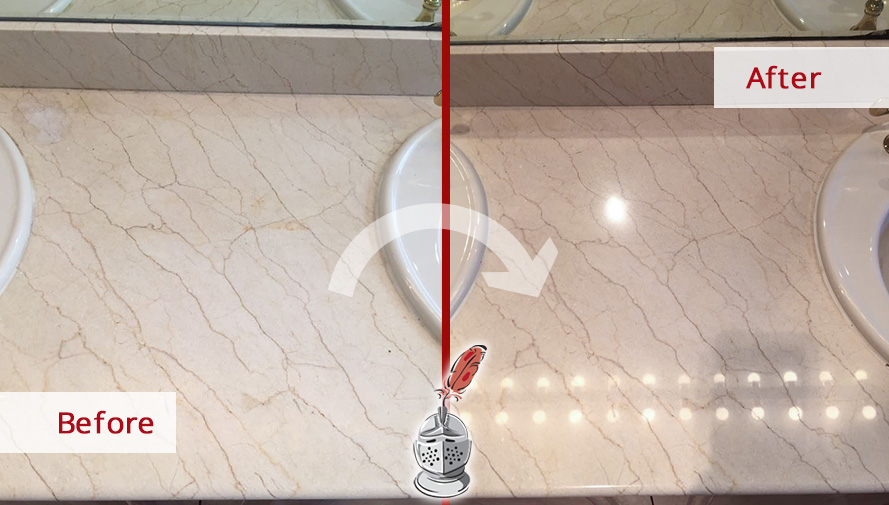 Our most recent client, a Briarcliff Manor resident, hired
our stone honing
and
polishing services in Westchester, NY
. Why? She had a beautiful marble vanity countertop in her bathroom that she loved. However, since she had a busy work schedule, she didn't have enough time to deeply clean her house and countertop as much as she wanted. Nevertheless, every weekend, she maintained a thorough cleaning routine, and she always took special care of her marble vanity countertop. Every once in a while, she even bought special cleaning products for the marble countertop. What the homeowner didn't notice was that the marble countertop had started to look dull over the years.
The homeowner had a few days off from work for vacation and made a list of things to do around the house, including deeply cleaning some rooms and surfaces. On her first day off, she began by cleaning the bedroom, kitchen, and living room. She decided to leave the bathroom for the following day.
The next day, she didn't waste any time. The first thing she did was clean the bathroom. While she was cleaning, she noticed that part of the marble vanity countertop looked odd, but she could not quite put her finger on it. After she finished, she still thought that something was different with the marble. It looked weird, so she searched for some photos from when the vanity countertop was first installed, and she realized she was right: the natural stone looked dull compared when it was installed three years ago.
The woman got desperate and went straight to the nearest local store to buy several cleaning products, so she could try to clean the marble countertop herself. When she got home, she immediately searched for some online tips to help her clean the stone. After the cleaning session, she didn't see any changes, but she thought that one session might not make much of a difference anyway.
Consequently, she decided to spend the next few days cleaning the vanity countertop. After a few days of trying, there was no change at all—the marble looked exactly the same. That was when she realized that there was nothing else she could do at that point. She needed professional help to solve the problem.
The woman asked her friends if they knew of a quality company that offered the services she needed to restore the glossy finish of her marble vanity countertop. A friend from work called her and mentioned she had hired Sir Grout Westchester a few months ago. She said that the results that we got on her marble living room floor were extraordinary. The woman trusted what her friend told her and immediately Googled our company. We were among her top search results. On our website, she saw several pictures of our previous work and read a lot of reviews from satisfied clients. The homeowner was convinced that we were the right choice, so she called us and scheduled a free, in-home evaluation.
On the day of the evaluation, Sir Grout Westchester's owner, Tim O'Leary, arrived at the client's house to do a complete assessment of the marble vanity countertop and offer the best possible solution to restore it. She took our expert into the bathroom to show him what she had been talking about over the phone. He immediately noticed the dullness of the stone.
He explained that this usually happens because most homeowners do not know the right cleaning products and methods to use when cleaning natural stone. In fact, this is one of the main reasons why stone gets dull.
Taking good care of natural stones is crucial for preventing etching and dulling. However, very few homeowners know the correct methods and products to use. When stone is exposed to incorrect cleaning methods and products, it can wear down and even become unrecognizable.
The client asked if there was a solution to the problem, and our expert assured her that our stone honing and polishing services would bring back the shiny look of the stone. The homeowner agreed. She just wanted to see her vanity countertop look beautiful and shiny again.
A few days later, our team came back to the house to get started on the marble vanity countertop. The first step was to hone the marble. Our experts honed the countertop with series of diamond-impregnated pads to remove the damage that had dulled the look of the stone. After all the damage to the countertop's surface was removed, it was time to start polishing.
To polish the stone, our experts sanded the marble using series of increasingly higher grit compounds. The polishing compound restored the shiny look of the surface, just as the client wanted. Once the vanity countertop was polished, our exclusive sealant was applied, and Tim explained that this product gives the stone some degree of protection.
Once the job was done, and Tim had the woman take a look at the final outcome. She was amazed with the results. She never thought that a stone honing and polishing service would leave the marble looking so glossy. In fact, it looked incredible. She took several pictures to show her friend, who had recommended Sir Grout Westchester. She said that she would also show this to anyone who experiences a similar problem. She thanked Tim and his team for the incredible work they did and said that she would not hesitate to recommend us.
Before leaving, Tim gave the client some recommendations, so she could take care of her marble vanity countertop. First, he advised her to avoid hard water and soap scum. Instead, she should clean and dry the surface with a terry cloth and never let it air-dry. Why? Because this will allow the minerals in hard water to seep into the marble and stain it. Moreover, he reminded her to use pH-neutral cleaners instead of acid-based ones. Lastly, Tim explained that polishing and sealing are the most effective ways to avoid damaging marble, which is why she needed to periodically hire professional stone honing and polishing services.
If your natural stones surfaces are losing their shine, you need an experienced team to rescue them from dullness. Sir Grout Westchester is your best option! Call us at
(914) 592-5902
or fill out our "Request a Quote" form to schedule a free, in-home evaluation. Be sure to subscribe to our
newsletter
to keep up to date with our latest promotions and discounts.
If you found this article helpful then let us know in the comments section below. Likewise, feel free to share it using the share options below. Want us to cover another topic of your interest pertaining to Hard Surface Restoration? If so, then like us and follow us on social media, and post to any of our social media profiles the topic you'd like us to discuss:
Facebook Sir Grout Westchester
,
Instagram @sirgrout
, and
Twitter @SirGrout
.