Welcome to the Terracotta category for the Sir Grout Westchester Blog. Here you'll find blog posts related to terracotta surfaces that we've restored. See the amazing transformations with the included before and after pictures. Feel free to share and leave your comments.
Published November 28, 2018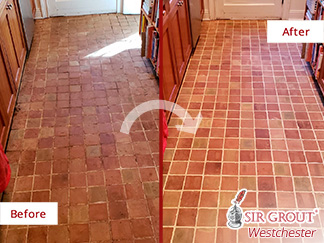 Dull Terracotta Floor in Irvington, NY Gets Its Color Restored After a Tile Cleaning Service
Terracotta is a type of ceramic tile known for its durability and earthy look. It also tends to give a warm, charming sensation that can sweep across any room when it's used as flooring. Terracotta is porous, which means it will last longer if it's properly sealed.
READ MORE
Published December 28, 2016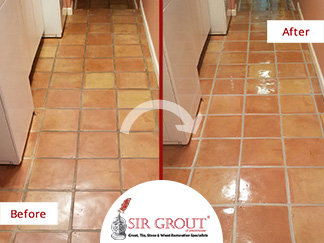 A Grout Sealing Job in Rye, New York Leaves This Terracotta Floor's Grout Lines Impeccable
Some homeowners love to enhance the beauty of their homes with rustic surfaces, and terracotta perfectly serves this purpose. It is a very popular type of flooring among homeowners due to its durability, insulating properties, and versatility.
READ MORE