Welcome to the Polishing category for the Sir Grout Westchester Blog. Here you'll find blog posts related to stone, tile, and wood that we've restored. See the amazing transformations with the included before and after pictures. Feel free to share and leave your comments.
Published January 31, 2018
See How Our Stone Honing and Polishing Service in Briarcliff Manor, NY, Changed the Look of This Marble Vanity Countertop
Having natural stone countertops gives a touch of luxury to any room. While it is true that natural stone can transform any room, homeowners need to be careful. If natural stone is not properly maintained, it will lose its shine sooner or later.
READ MORE
Published August 31, 2017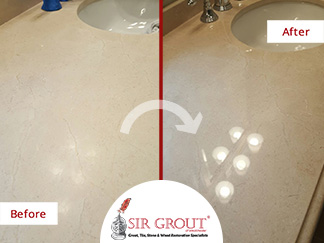 This Lavish Vanity Countertop was Restored Thanks to our Stone Polishing Service in Briarcliff Manor
Everybody loves an elegant vanity to add an air of luxury to their bathroom. Picking a beautiful slab of natural stone is always a pleasure, and it gets better when you can appreciate how your bathroom transforms because of it.
READ MORE