Welcome to the Foyers category for the Sir Grout Westchester Blog. Here you'll find blog posts related to stone, tile, and wood Foyers that we've restored. See the amazing transformations with the included before and after pictures. Feel free to share and leave your comments.
Published December 29, 2017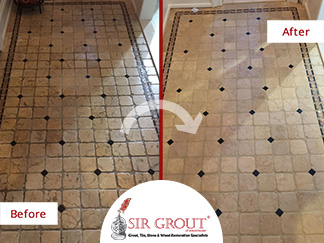 From Dingy to Spotless! A Stone Cleaning in Scarsdale, NY Revealed the True Beauty of This Tumbled Marble Floor
From ancient times, stone has played a prominent role in commercial and residential construction. Have you ever asked yourself why? Well, there are several reasons for this, but one common argument that people make is its uniqueness!
READ MORE