Welcome to the Slate category for the Sir Grout Westchester Blog. Here you'll find blog posts related to slate surfaces that we've restored. See the amazing transformations with the included before and after pictures. Feel free to share and leave your comments.
Published November 23, 2017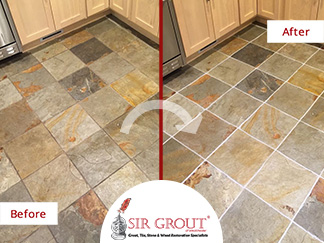 Learn How a Grout Cleaning Job in New Rochelle Turned This Grimy Slate Floor into a Pretty Sight Again
Natural stone is not only versatile, but it can also change the entire look of what would otherwise be a dull room. That is why natural stone has long been used in many kitchens as both countertops and floors.
READ MORE
Published February 18, 2015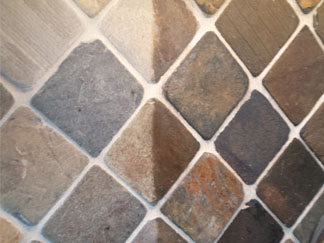 Revitalize Stone's Natural Vibrancy with Stone Color Enhancement
If the color(s) in your natural stone tile is lacking the striking vibrancy it once had, it very well could have had the color blanched out of it. This can happen for many reasons, including washing it with the wrong type of cleaners.
READ MORE