Revitalize Stone's Natural Vibrancy with Stone Color Enhancement
February 18, 2015
If the color(s) in your natural stone tile is lacking the striking vibrancy it once had, it very well could have had the color blanched out of it. This can happen for many reasons, including washing it with the wrong type of cleaners, like bleach, ammonia, or dish soap, or from having too much exposure to sunlight, rain, or any of the other elements which cause weathering and result in its brilliant colors becoming diminished. Due to its composition, stone tile such as slate, tumbled marble, granite, and limestone as well as clay tiles like terra cotta and Saltillo can easily become dull and faded. Fortunately, each of these tile types can be revitalized with what's known as a sealer enhancer.
Sealer enhancers cause the color enhancement of stone and clay by bringing out their natural richness and vibrancy. Many refer to the surface appearance produced by using an enhancer as giving the stone a "wet look" because the stone darkens as if it had been wetted with water. This is true. The liquid enhancer is absorbed by the stone and the more porous it is the more it will soak up the sealant. This is why travertine tiles, for example, are more responsive to sealer enhancers than granite tiles. The other great thing about sealer enhancers is that, along with enhancing color, they also provide heavy duty protection against sun and water exposure as well as stains. This makes sealers ideal for use on stone and clay surfaces both indoors and outdoors.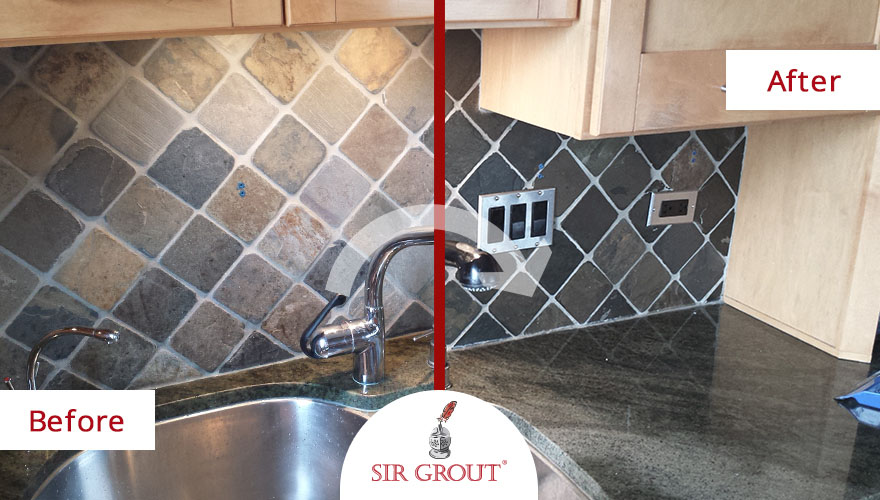 The slate kitchen backsplash in the above photo exemplifies our
stone cleaning and color enhancement
process. Using this process on kitchen backsplashes is a good idea because it helps to protect against the heat, moisture, and grease they will inevitably be forced to endure. Take notice of the intensified, deeper hues created as a result of our sealer.
Sealer enhancers can be used on far more surfaces than just slate backsplashes. They're also commonly used indoors on slate and unglazed terra cotta or Saltillo floors to make the tile's striking, innate color variations pop and on stone shower tiles to add a more rustic look. Sealer enhancers can also be used outdoors on granite, flagstone, and stone pavers to boost and brighten their color tones.
Customers should be cautious, however, before having their stone enhanced -- once the enhancer has soaked into their tile, the process cannot be reversed. To prevent a permanent, unwanted alteration, we recommend you experiment with how the sealer will effect the color by testing it on either an extra tile or in an inconspicuous area to make sure the new look is desirable to you.
It's important to note that a sealer enhancer will NOT make your stone look shiny -- it is a matte finish product. If a glossy, lustrous look is what you want, having it polished is the better option. However, if the sealer enhancer is applied incorrectly and a residue has been allowed to dry, an ideal matte look will not be complete until the pesky residue has been removed, which may require the assistance of a professional.
While the purpose of all sealer enhancers is primarily to enrich color, not all sealers are alike and don't all have the same effectiveness. Quality sealer enhancers are expensive and can run upwards of $150-200 per gallon! Sir Grout prefers to use a solvent-based sealer enhancer because it provides superior stain protection over the water-based options. A quality sealer enhancer can provide years of deep, rich color to your tiles, as long as they are well-maintained with a pH neutral cleaner so as not to compromise the newly renovated final product.
Sir Grout Westchester would gladly welcome the opportunity to make your dull, faded tile look rich and vibrant again and to provide them with increased protection against stains and the elements. Please give us a call!