From Dingy to Spotless! A Stone Cleaning in Scarsdale, NY Revealed the True Beauty of This Tumbled Marble Floor
December 29, 2017
Stone is a very adaptable material. It can go well with almost any surface and any design. From ancient times, stone has played a prominent role in commercial and residential construction. Have you ever asked yourself why? Well, there are several reasons for this, but one common argument that people make is its uniqueness! No one will ever have the same stone slab as you. Thanks to the geological process through which stones are formed, this beautiful and stylish material has unique patterns that never repeat in nature.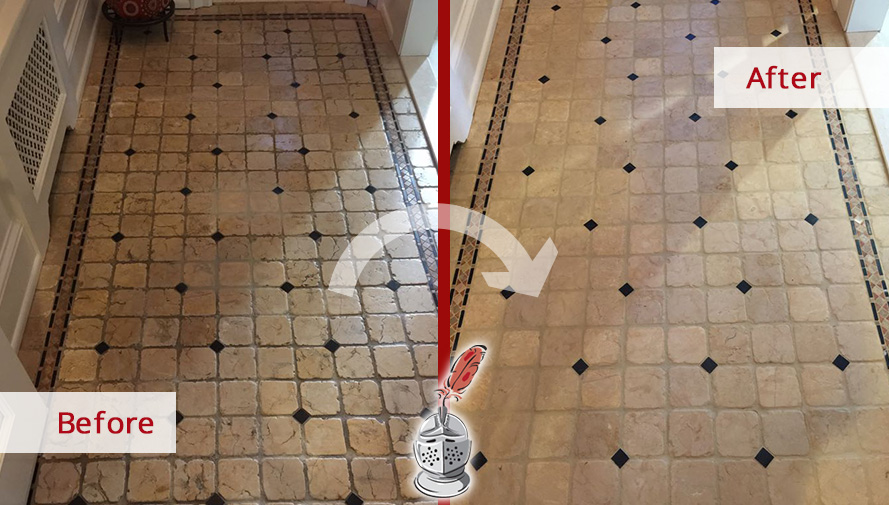 Another reason is style. The most remarkable artists have used stone for their masterpieces. If you add stone to your home, you are definitely adding a touch of elegance that everyone will notice. Also, natural stone offers you durability, as it can withstand years of use. Certain stone can endure heavy foot traffic, high levels of moisture, and even extreme weather conditions without disintegrating. No wonder this New Yorker decided on tumbled marble for her entryway. The problem was that she confused tough and durable with no maintenance needed. As a result, her once beautiful floor had become dull and grimy. Fortunately, a professional
stone cleaning in Scarsdale, NY
, could reverse the damage.
Setting the Context
This homeowner had chosen tumbled marble for her home's entryway because she wanted to impress her guests, and she needed a material that could withstand heavy foot traffic. No matter how sturdy a natural stone may be, it also needs regular maintenance to preserve its finish. As time passed, the homeowner noticed how the pitted areas of the stone and the grout lines were getting darker. She tried hard to remove the brownish spots, but the situation was getting worse. The woman knew that she had to find a solution, but she did not know where to start.
Looking for a Reliable Company
She showed the entryway to her brother, who is a successful realtor in the area. He recommended Sir Grout Westchester, a hard surface restoration company that he had hired several times when restoring houses that were up for sale. He regarded Sir Grout Westchester as a dependable and reputable company with outstanding technicians and top-notch customer service. The homeowner trusted her brother's opinion and contacted us to get a complete evaluation of her entryway for free.
The Expert's Point of View
On the day of the assessment, Sir Grout Westchester's owner, Tim O'Leary, went to our customer's home to look at the marble floor. His expertise allowed him to identify the signs of deterioration as well as the causes of the damage. He told the client that the floor had been subjected to incorrect cleaning products and techniques, which had caused dirt to accumulate in the crevices of the tumbled marble and the grout lines. He also said that it would be necessary to thoroughly clean the surface and seal the grout lines and the stone. The homeowner agreed, and a new date was set to get to work.
Our Hard Surface Restoration Procedure
Professional Stone Cleaning
When the day arrived, Mr. O'Leary returned to our client's home with his staff of qualified hard surface restorers. They put their restoration plan into action right away. They began by using a combination of alkaline cleaners and a vertical scrubber to remove the grime buildup from the stone. They also used vapor steam cleaning to remove the most embedded dirt.

Grout Sealing
Once the surface was completely clean, it was time to start the preventive stage of the procedure. Keep in mind that grout is a porous material that allows liquids and dirt to permeate its surface. This seepage can lead to grime accumulation, stains, and even severe water damage. For this step, our crew used Sir Grout's proprietary grout colorsealant. This state-of-the-art product is water-, stain-, and mold-resistant. And because Sir Grout's manufacturer can color match any grout color there are endless color choices. Our homeowner chose Mapei Harvest, a golden shade that highlighted the beauty of the marble slabs.

Stone Sealing
The last part of the preventive stage involved sealing the stone surface. The experts decided on an impregnating sealer enhancer. It is important to apply as many coats as necessary to guarantee that liquids are not absorbed, and the surface is truly protected. Also, a sealer enhancer enriches the stone's natural deep colors.
Topical vs. Impregnating Sealers
There are two types of stone sealers: topical and impregnating. Topical sealers harden on the surface, creating a shield against spills. The main drawback of these sealers is the thin layer of wax they leave behind on the stone. This waxy film may not only attract dirt to the surface but can also yellow and alter the surface's appearance. Impregnating sealers though, do not affect the finish of the surface, as they penetrate the stone and seal the pores from within.
Another Successful Outcome
When our team finished, they showed the results to the homeowner. The woman was thrilled with the outcome! She thanked our team for their work and said that we had exceeded her expectations. The entryway had a new and revamped look.
Tumbled Marble: Main Characteristics and Problems
Tumbled marble is a beautiful stone. Its natural veining and crevices can give any surface a classy look. However, it is important to remember that no matter how tough the stone may be, it still needs proper maintenance to maintain its appearance—and this is especially true of tumbled marble. With this in mind, our techs gave the customer some tips on how to maintain the results:
Dry the surface. It is very important to remove any excess water or spills as soon as they occur.

Vacuum the surface. Walking on dirt can scratch your marble. Therefore, it is crucial to vacuum it on a frequent basis.

Choose the proper cleaning products. The cleaner that you choose for your cleaning routine is key to preserving your marble surfaces. Look for a pH-neutral, stone-safe cleaner.

Avoid acids. Do not spill acidic solutions on the surface or use them to clean the surface. Marble contains calcium carbonate, which reacts chemically when it comes in contact with acids. This chemical reaction dissolves the surface of the marble and leaves an unsightly etch mark.

Check the sealer. It is imperative to verify that your sealer is properly working every year. To do this, place some drops of water on your marble. If it beads, the sealer is still working. If it is absorbed, a new layer of sealer must be applied as soon as possible.
Contact us
If your stone surfaces look dull and dirty, it is time for a professional touch-up! Sir Grout Westchester's technicians are ready to return your stone surface to its former glory. Fill out the "Request a Quote" form on this page or call us at
(914) 592-5902
for a free, in-home consultation.
If you found this article helpful then let us know in the comments section below. Likewise, feel free to share it using the share options below. Want us to cover another topic of your interest pertaining to Hard Surface Restoration? If so, then like us and follow us on social media, and post to any of our social media profiles the topic you'd like us to discuss:
Facebook Sir Grout Westchester
,
Instagram @sirgrout
, and
Twitter @SirGrout
.