A Kitchen Floor in Bedford, NY, Looks Wonderful Thanks to Our Grout Cleaning Services
September 05, 2023
Kitchen floors can be difficult to maintain. These are some of the busiest areas in the house, and this day-to-day wear takes a toll on the surface. For this reason, it is necessary to follow proper cleaning routines. However, this can be challenging, and depending on the damage, the solution might require more than a store-bought cleaner. A resident from Bedford, NY, wanted to restore her kitchen floor. After years of enduring constant foot traffic, the grout lines looked grungy and unappealing. The owner tried to solve the problem, but there was no improvement. Frustrated, she considered her options and decided to look for professional assistance.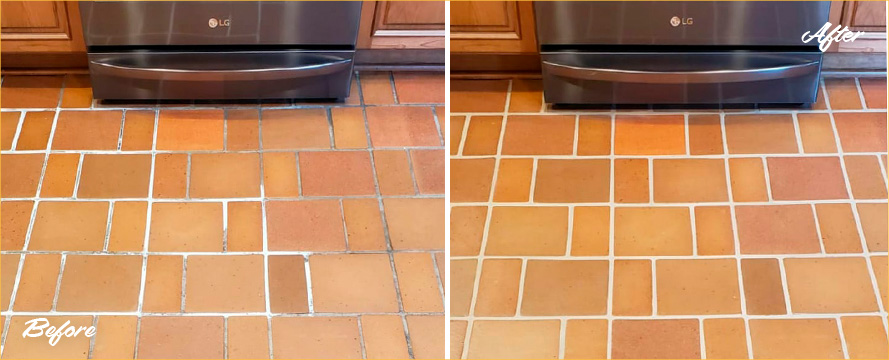 Fortunately, a quick internet search led her to Sir Grout Westchester. Typing
grout cleaning services in Bedford, New York
, on her search engine, she found a link to our website, and there, she got all the information she needed. After browsing our user-friendly site, reading some of our blogs, and going through the five-star reviews we receive daily, she was convinced we were the best option. Happy with her research, she filled out the "Request a Quote" form, asking for a free evaluation.
Following her request, we visited her house and provided the in-home consultation. The owner gave us more details and we began the assessment. Upon entering the kitchen, we noticed the problems on the floor. The grout was in poor condition, and it had acquired a dark tone. Because of this, the surface looked grungy and run-down. To add to this, the grout needed sealing. It was necessary to address this problem because this common mixture is porous and exposed to external agents, which can cause further deterioration. To prevent more damage, it was imperative to apply a special sealant.
After an extensive inspection, we had enough information to discuss a solution with the owner. Since we had determined that the surface would need professional attention, we offered our grout cleaning services. With our wonderful restoration process, we would restore the surface, and give the floor a superb new look. She was very happy with the assessment, so she immediately hired us.
A few days after the inspection, we returned to restore the floor. To ensure optimal results, our process follows a series of thorough steps. First, we cleaned the surface using our exclusive cleaner. Our product won't cause any damage because it doesn't leave a residue, and it's made with top-quality ingredients. Once everything was spotless, we continued with the grout repairs.
When this vulnerable component is badly damaged, stained, or discolored, regular cleaning won't be effective, so it might be difficult to achieve the desired results with these methods. For this reason, many homeowners find this chore troublesome, a time-consuming task they would rather avoid. Sir Grout Westchester, on the other hand, has the tools and expertise to deal with all these issues. We painstakingly worked on the floor, giving the grout lines a complete renovation. To finish the job, we sealed the surface.
For this final step, we used Sir Grout's flagship sealant, ColorSeal. Our high-quality product offers superior defense, warding off dirt, grime, and other external agents. This reduces deterioration and makes cleaning routines easy and fast. ColorSeal gives the grout a uniform color and a brand-new appearance, greatly improving the surface. It comes in a wide range of colors, so our clients can match the tiles with the grout.
Our performance was outstanding and our work yielded fantastic results, successfully restoring the surface and giving the kitchen a new look. We were ready to call our client and show her our accomplishments. The owner loved the renewed appearance of the floor. She was beyond thrilled because everything looked perfect, surpassing all her expectations. Before we left, she sincerely expressed her gratitude, assuring us she would recommend our services to everyone.
Floors in busy areas endure heavy wear and tear, which can lead to severe damage and decay. Because of this, they require proper care. Following our recommendations is essential to achieve optimal maintenance procedures. We suggested setting up a weekly cleaning routine using only pH-neutral products like
Sir Grout's Natural Hard Surface Cleaner
. Our product offers top-notch quality and many benefits, vastly surpassing the competition. Likewise, it is non-toxic and safe for everyone in the house, including pets.
We don't recommend soap-based cleaners or substances with acidic properties. These products contain harsh agents that can damage the surface. In addition, they leave a sticky foam that seeps into the grout, leading to stains, discoloration, and other issues. While cleaning the area, always use clean mops, make sure to prevent foot traffic on the wet surface, and let the floor dry before entering the room again. Avoid using abrasive tools because they can scratch the tiles. Likewise, placing a doormat near exterior doors can minimize the accumulation of dirt.
As you can see, Sir Grout Westchester's grout cleaning services provide breathtaking results. Don't wait any longer and contact us today by calling
(914) 592-5902
or by filling out our "Request a Quote" form for a free in-home consultation. If you want to see more, please check out our
picture gallery
, and consider subscribing to our
newsletter
so you don't miss our latest promotions and updates.